Overview
On Saturday, September 30th Carolina Forest drill team made their way to South Florence High School to compete in their drill meet. Our school performed several routines such as Armed squad, Unarmed squad, Unarmed platoon, Armed platoon, Varsity colorguard, Freshmen colorguard, and NS1 squad. After our drill team performed our routines, 2 games of knock out which consisted of Unarmed knock out for freshmen cadets and armed knock out for Varsity cadets.

Award Ceremony
After all of the routines were finished as well as knock out, all of the schools formed a platoon and waited for the results. With all of our cadets hard work and commitment, we took first place at the South Florence drill meet. We would like to thank all of the cadets who showed up and helped make this possible!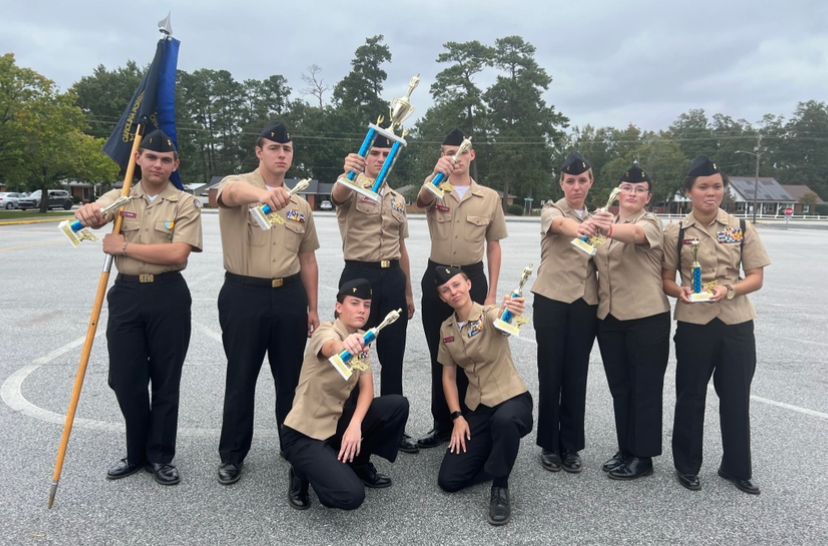 Article Written by C/ENS Isabela Goebel
Contact us
Feel free to contact us if you have any questions! You can reach our Public Affairs Officer, Senior Naval Science Instructor, or Naval Science Instructor through the information below.

C/ENS Isabela Goebel, Public Affairs Officer

Captain Kevin Boyle, Senior NSI - kboyle@g.horrycountyschools.net

Chief Gregg Thompson NSI - gthompson002@g.horrycountyschools.net