Overview
Starting at 08:30 on a Saturday morning, the CFHS NJROTC Drone Team hosted their first annual Drone meet. With Conway, St. James, North Myrtle, and Myrtle Beach High Schools participating, these schools competed against each other in an obstacle course, NFO and landing challenge, and a relay race. To ensure the best competition for all schools, our cadets volunteered as school escorts, timers, runners, scorers, or concession workers to help out for the meet.
The Events
We held all the drone competitions at different times and locations. Following the schedule, our escorts brought each school to the cafeteria at 08:30 to compete in the obstacle courses. Our instructors challenged the pilots to operate their drones through various barriers, including hula hoops, desks, and bars. After finishing this event, the next objective was to finish the NFO challenge in a timely manner. One cadet is blindfolded and another cadet guides the pilot through obstacles. Once the school's team successfully completes the course, the escorts bring the teams to the NJROTC room for the landing challenge. Here, multiple students attempt to land the drone on a target-like mat to score maximum points. For the final category, students had to compete in the rotorhead race, a relay race that required four flyers to successfully complete the course and hand off the drone to the next flyer.
Award Ceremony
The award ceremony began after the schools competed in every event. Our Drone Team Commander, C/PO3 Giana Aponte, and Operations Officer, C/LTJG Hailey Whitmore, handed out the awards based on performance and speed in every category. In the end, North Myrtle Beach placed 3rd, Myrtle Beach placed 2nd, and Conway took top. Although St. James Highschool didn't rank, we thanked all the schools that came to support us in our first host drone meet. We hope to see everyone back again next year!
---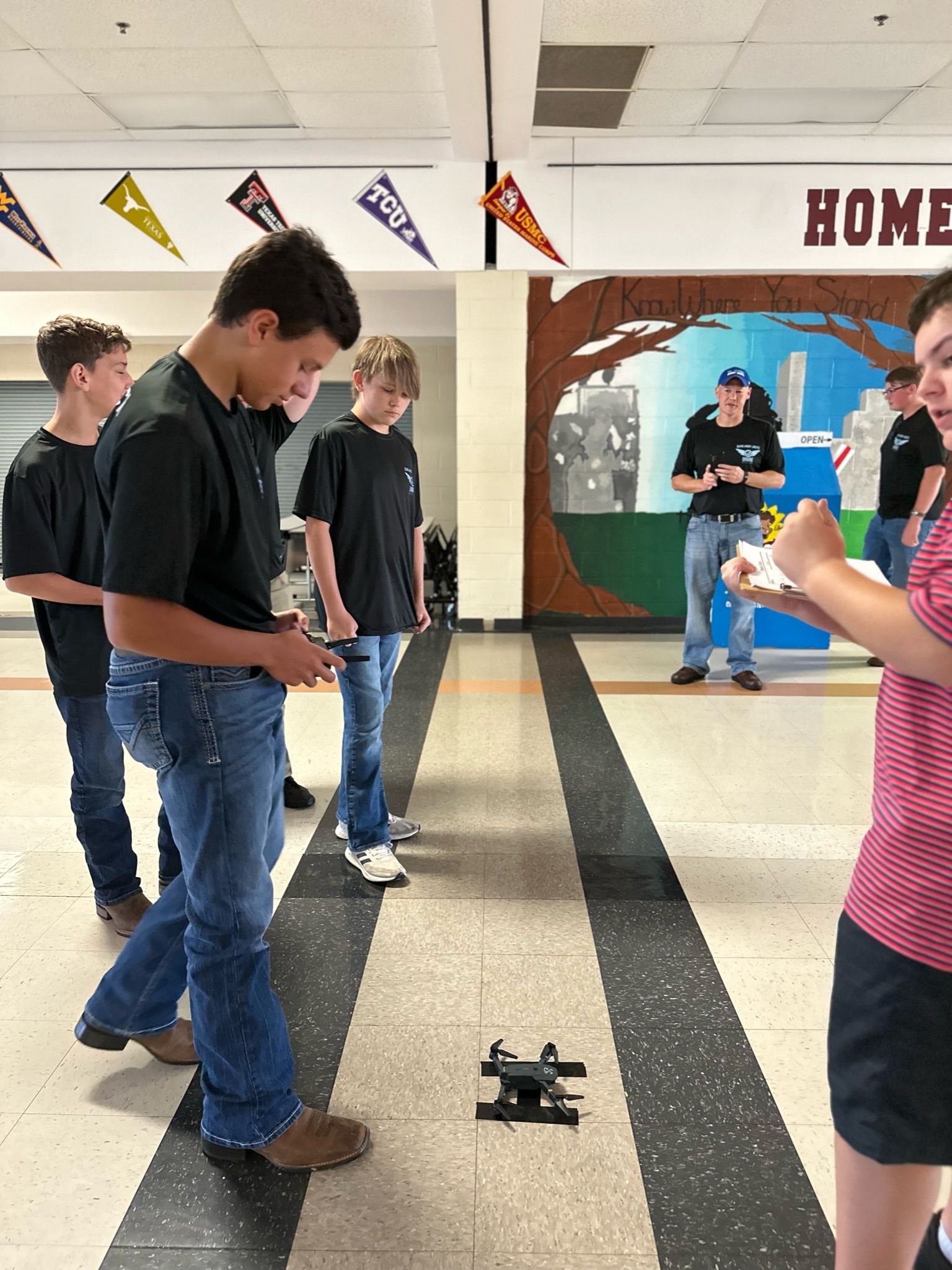 Article Written by C/PO3 Shelby Hedges
Edited by C/ENS Klaire Heller
---
Contact us
Feel free to contact us if you have any questions! You can reach our Public Affairs Officer, Senior Naval Science Instructor, or Naval Science Instructor through the information below.
C/ENS Klaire Heller, Public Affairs Officer - CFHSPublicAffairsOfficer@gmail.com
Captain Kevin Boyle, Senior NSI - kboyle@g.horrycountyschools.net
Chief Gregg Thompson NSI - gthompson002@g.horrycountyschools.net